St Blazey A.F.C.
have been lucky enough to have some fantastic players play for the club over the years. Some of our former player have gone on to play league football, one player went on to play for England. Here you will find out who they are and where they played during their career.
Charlie Rundle.
Rundle began his football career at non league St Blazey. The inside forward joined Tottenham Hotspur in February 1946 and went on to score 12 goals in 29 senior matches in all competitions. He transferred to Crystal Palace in June 1950 and featured in a further 38 games and found the net twice between 1950–51. After leaving Selhurst Park he ended his competitive career at Dartford.
Percy Varco. (17 April 1904 – 29 January 1982) was an English professional football centre-forward.
Varco was born in Fowey, Cornwall and played for his local side Fowey Town before moving to Southern League Torquay United. He left Plainmoor in 1924 to join Aston Villa for a fee of £200, scoring twice in 10 league games for the West Midlands side. He subsequently moved to Queens Park Rangers (4 goals in 16 league games), before joining Norwich City in 1927. He quickly became a hero at The Nest, scoring 32 times in his first season, including 10 goals in his first 7 league games. In 1929, after 37 goals in just 57 league games for Norwich (and 47 in 65 overall), he moved to Exeter City and continued to be a prolific goalscoring, netting 41 goals in 81 league games. He moved to Brighton and Hove Albion in 1932, but played just once for the Seagulls before returning to Cornwall where he played for non-league sides St Austell and St Blazey.
Shaun Taylor. (born 26 February 1963)
Shaun is an English former professional footballer who made more than 500 appearances in the football League and Premier League, playing for Exeter City,  Swindon Town and Bristol City.
Taylor was born in Plymouth. A hard-tackling no-nonsense defender, he played non-league football for clubs including Holsworthy FC, St Blazey and Bideford before moving to Exeter City in December 1986 at the age of 23. He captained Exeter to the Fourth Division championship in 1989–90, and played 200 league games for the club before moving to Swindon Town in July 1991 for a £200,000 fee. He was an ever-present as Swindon gained promotion to the Premier League in 1992–93, a season when he scored 13 goals, a high total for a defender, and played every game in their only season in the top flight. After a second relegation, he captained Swindon to the Second Division title, and became the first player to win the club's Player of the Year award three times. He played 259 games in all competitions for the club before joining Bristol City in September 1996 for £50,000.
After a further 105 league games for Bristol City, helping the club to promotion to Division One in 1998, Taylor retired as a player and joined the club's coaching staff. Released in May 2005, he moved to Conference National club Forest Green Rovers in June as assistant to manager Gary Owers; their contracts were terminated by mutual consent after a poor start to the 2006–07 season. In July 2009 Taylor rejoined Exeter City as youth coach. He then became Assistant manager at Exeter City's Devon rivals Torquay United until he was dismissed in May 2013.
Steve Davey. (born 5 September 1948 in Plymouth)
is an English former footballer who played in the Football League for Plymouth Argyle, Hereford United, Portsmouth and Exeter City. For Plymouth he played either as a striker or at full back. He played a key role in Portsmouth's promotion from the Fourth Division in 1979–80, playing mainly at centre-back.
He played twice for England Youth in the summer of 1967, and later played for several non-league clubs in the south-west of England including Bideford, Liskeard Athletic, Saltash United and St Blazey.
Nigel Martyn.
Born in St Austell, Cornwall, Martyn started his career as a midfielder until invited to play as a goalkeeper for his brother's works team when he was 17. He started by playing amateur football for Cornish sides Heavy Transport F.C., Bugle and St Blazey while working in a plastics factory and for a coal merchant, before beginning his professional career with Bristol Rovers in 1987 after apparently having been "spotted" by Rovers' tea lady whilst she was on holiday.
While still in Cornwall he was also a cricketer, and played with Cornwall Schoolboys as a wicket keeper, as well as Fowey C.C. Since his retirement from professional football, he has returned to cricket, playing regularly for a local Leeds team called Leeds Modernians in the Airedale & Wharfedale Senior Cricket League.
He was transferred to Crystal Palace for a fee of £1 million in 1989, becoming the first goalkeeper to attract a million-pound transfer fee in English football. It was at Crystal Palace that Nigel first gained international recognition with a call up to the full England side. He remained at Palace for seven seasons, appearing 349 times for his club, including the 1990 FA Cup Final (where Palace were beaten by Manchester United on a replay, and the 1991 Zenith Data Systems Cup final (where Palace beat Everton). In 1996, he signed with Leeds United, setting another record fee for a goalkeeper of £2.25m.
In 2005, Palace supporters voted Martyn into their Centenary XI.
Martyn was signed by boss Howard Wilkinson in the summer of 1996/97, along with another high-profile capture in the form of Britain's most expensive teenager, Lee Bowyer. Martyn's form for United, both at home and on the continent in European competition was outstanding – most notably in a man-of-the-match display at the Olympic Stadium v AS Roma in the 1999/2000 UEFA Cup campaign, of which Leeds reached the semi-finals. Martyn was also a huge part of the squad that eliminated illustrious clubs such as FC Barcelona, S.S. Lazio and Deportivo La Coruna in the following season's UEFA Champions League campaign, leading them to the last four.
In total, Martyn played as Leeds' first-choice goalkeeper for six seasons and his consistency was such that years later at a supporters' dinner, the Cornishman was named officially as United's greatest ever goalkeeper, beating off competition from the likes of Gary Sprake and John Lukic – men who both won championship medals at Elland Road.
However, it was a disagreement with new Leeds manager Terry Venables, combined with the increasingly good form of youngster Paul Robinson, that kept him from playing any games in Leeds' 2002–03 season and after a string of unused substitute appearances, Martyn was told he could find new employers.
On 10 April 2006, he was voted as part of Leeds United's greatest team being the only player from after the Revie era to be part of the team. He is still well regarded by the Leeds United fans and was recently involved in the "Back the Bid Leeds" campaign for Leeds to be one of the host cities in England's World Cup 2018 bid.
In summer 2003, Leeds were approached by Chelsea and Everton with offers to sign Martyn. Both clubs were offering the out-of-favour goalkeeper a backup post: at Chelsea, he would understudy Carlo Cudicini; at Everton, the first-choice was Richard Wright. Martyn chose to move to Everton, and six games into the season, an injury to Wright gave him his Everton debut. His performances for the first team during Wright's recovery were such that Martyn remained Everton's first-choice goalkeeper even after Wright returned from injury.
Martyn was one of Everton's best performers in the 2004–05 season when they achieved their best Premier League finish of fourth. Many fans believed that Martyn almost single-handedly stopped them from slipping down the table after Thomas Gravesen's departure. He produced some of the best form of his career, despite being 38 years of age, to the delight of the Everton fans, with whom he remains a favourite. In his final season at Everton he was picking up many injuries and missed the remainder of the season. His final appearance for Everton was his 100th game for the club against Chelsea in an FA Cup tie at Goodison Park which ended 1–1, making numerous excellent saves. It was a fitting end to Martyn's Everton career, and he is considered by many as the club's best goalkeeper since Neville Southall, so much so that he was nicknamed "Big Nige" a play on "Big Nev" which was Southall's nickname.
On 8 June 2006, Martyn announced his retirement from football due to an ankle injury. David Moyes said that he would miss Martyn as he was his "greatest ever signing".
Martyn made his debut for the England national side against the Commonwealth of Independent States in Moscow in 1992, becoming one of the few Cornishmen to play for England. He earned 23 caps for his national side, spending the peak of his career as second-choice goalkeeper behind David Seaman.
Martyn replaced the injured Seaman for England's final UEFA Euro 2000 group match against Romania, making an error for Dorinel Munteanu's equalising goal in an eventual 3–2 defeat. He also started in goal for a 2–2 draw with Greece at Old Trafford that qualified England for the 2002 FIFA World Cup. In Sven-Göran Eriksson's first game in charge of England against Spain in February 2001, Martyn came on as a substitute for David James and saved a Javi Moreno penalty in a 3-0 win.
Martyn spent time as goalkeeping coach at Bradford City, a role he started in March 2007 as a favour for former Leeds United teammate David Wetherall, who was then caretaker manager at Bradford.
David Philp. (born 8 July 1960)
David is a Cornish former professional football goalkeeper.He was manager of Cornish side St Blazey until 2008. Philp was born in Newquay and played for the local side, Newquay, before joining Plymouth Argyle in July 1984. He played seven league games for Argyle before returning to non-league football. In December 2002, he became Bodmin Town's third manager in the space of five weeks. He stayed until being sacked in May 2003. In May 2004 he was playing for Liskeard Athletic. With injury ruling out Newquay's regular keeper, Philp made a return to playing action in February 2007. Philp left Newquay in May 2007 and took over as manager of St Blazey the following month.
Marcus Alan Crocker. (born in Plymouth) is a former professional football player.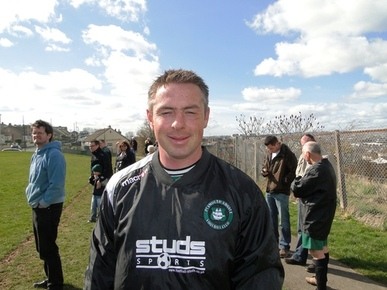 He started as a youth player at Plymouth Argyle and progressed to the first team where he made his first senior start in the 1992-93 season. He made a total of 10 league appearances for Plymouth, and his last senior game for them was on 26 December 1994 against Swansea City. He joined Bath City on a month's loan in January 1995, scoring in his first three games for the club. He was released by Plymouth at the end of the 1994-95 season and joined Dorchester Town, later playing for St Blazey and Plymouth Parkway.
In April 2000 Crocker was playing for Tavistock. By October 2001 he had rejoined Plymouth Parkway, from where he joined Newquay in December 2006.
Ben Rix.
Rix joined Crewe Alexandra as a schoolboy, signing as a professional in January 2001. He made his debut in October and make 22 appearances in his first season, most as a substitute. The following season, he was more involved with the team starting 17 games and making six appearances as a substitute. He was developing well and was a regular the next season but a number of injuries limited his appearances. He did not make a single appearance in 2005–06 because of injury and he moved to Scarborough and A.F.C. Bournemouth on loan. On 22 January 2009, Crewe Alexandra confirmed that Rix had left the club by mutual consent. In September 2009 Rix signed for Cornish South West Peninsula League Premier Division side St. Blazey A.F.C.. On 3 March 2010 Rix announced his retirement from the game.
Danny Robert Bance. (born 27 September 1982)
Bance was born in Plymouth. He began his career as an apprentice with Football League club Plymouth Argyle and progressed through the club's youth system to make his first team debut on 16 April 2001 in a 3–0 defeat at Kidderminster Harriers. He was substituted after 49 minutes and it proved to be his only appearance in the professional game. Bance joined Southern League side Weymouth on trial in July 2001 with a view to joining the club on loan. He was released by Plymouth Argyle in the summer of 2002 and then signed a two-year contract with Taunton Town. He then joined St Blazey, where he won the South Western Leaguechampionship in 2005 and 2007, and later captained the side. Bance moved to Liskeard Athletic in January 2010. Seven months later, he signed for Bodmin Town. Danny briefly managed St Blazey F.C.