23rd July 2019 at 7.30pm
Blaise Park
Pre season friendly
St Blazey 0v2 Ivybridge Town Att. 70, Away 10
St Blazey returned to Blaise Park after Saturdays defeat away at Bovey Tracey. There were several changes to the squad as players returned from holidays, while others returned from injury. A healthy crowd of 70 was in attendance for this latest friendly.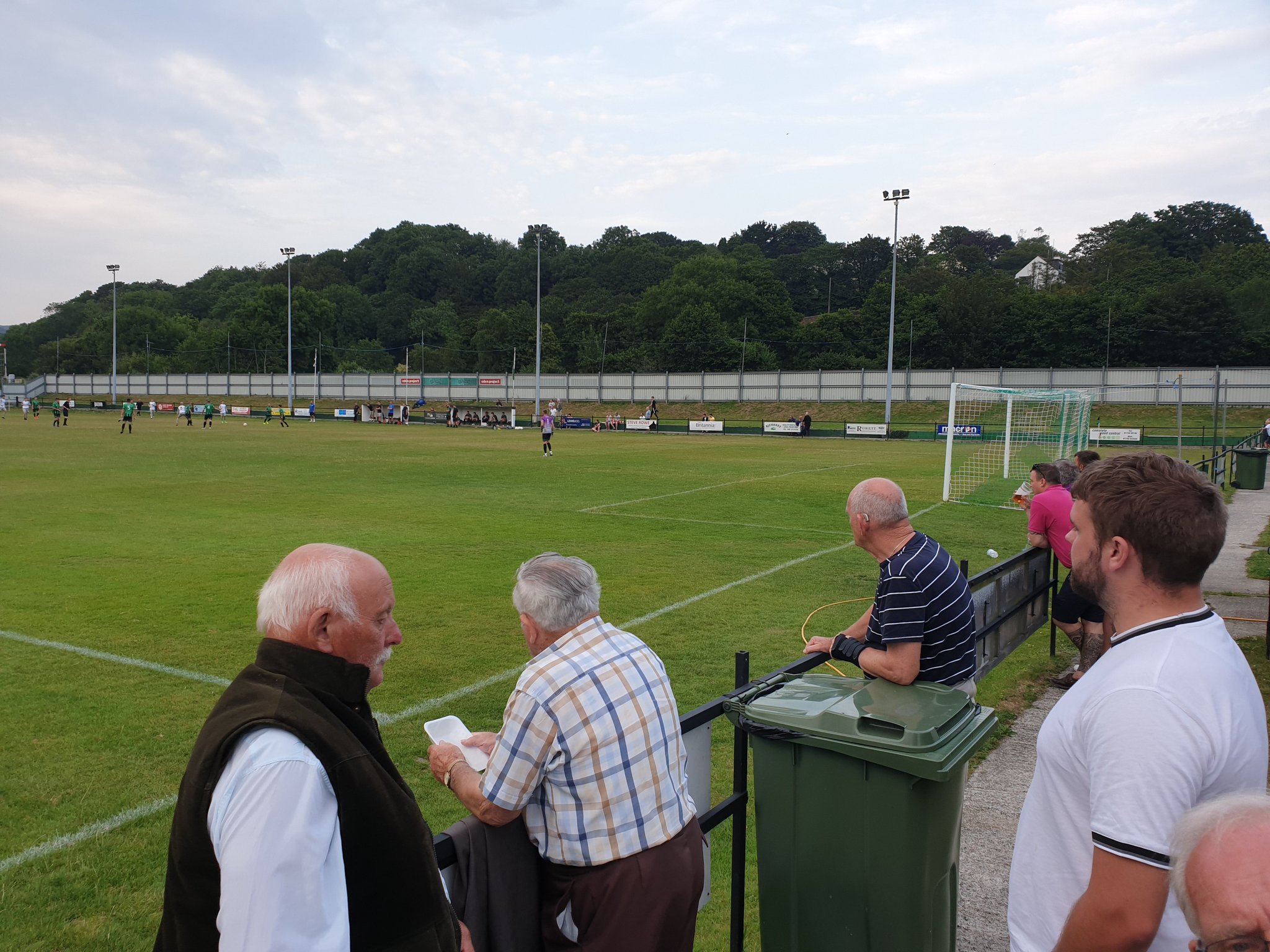 The squad for Wednesday nights friendly against Ivybridge.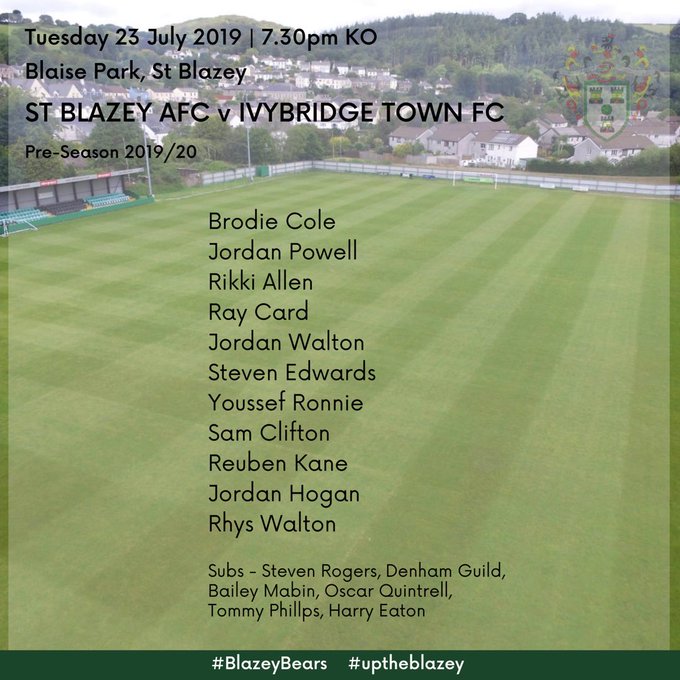 St Blazey, kicking towards the Laundry end in the first half struggled to create many chances in front of goal, likewise their opponents as the opening 25 minutes lacked any real goal mouth action as both sides cancelled each other out. Mid way through the first half, St Blazey had a shot from the left dragged across goal that never troubled the Ivybridge goalkeeper. Ivybridge had a free kick awarded on the edge of the area after a late tackle. The resulting free kick was well struck but flew over the bar. St Blazey's best move of the first half came about from a long ball out wide from Ivybridge that was well headed clear. The loose ball was taken down and quickly passed into the running Sam Cliften who opened the defence and squared the ball only for the resulting shot on goal to be well blocked. A very even first half as darkness started to decend on Blaise Park.
Half time, St Blazey 0v0 Ivybridge Town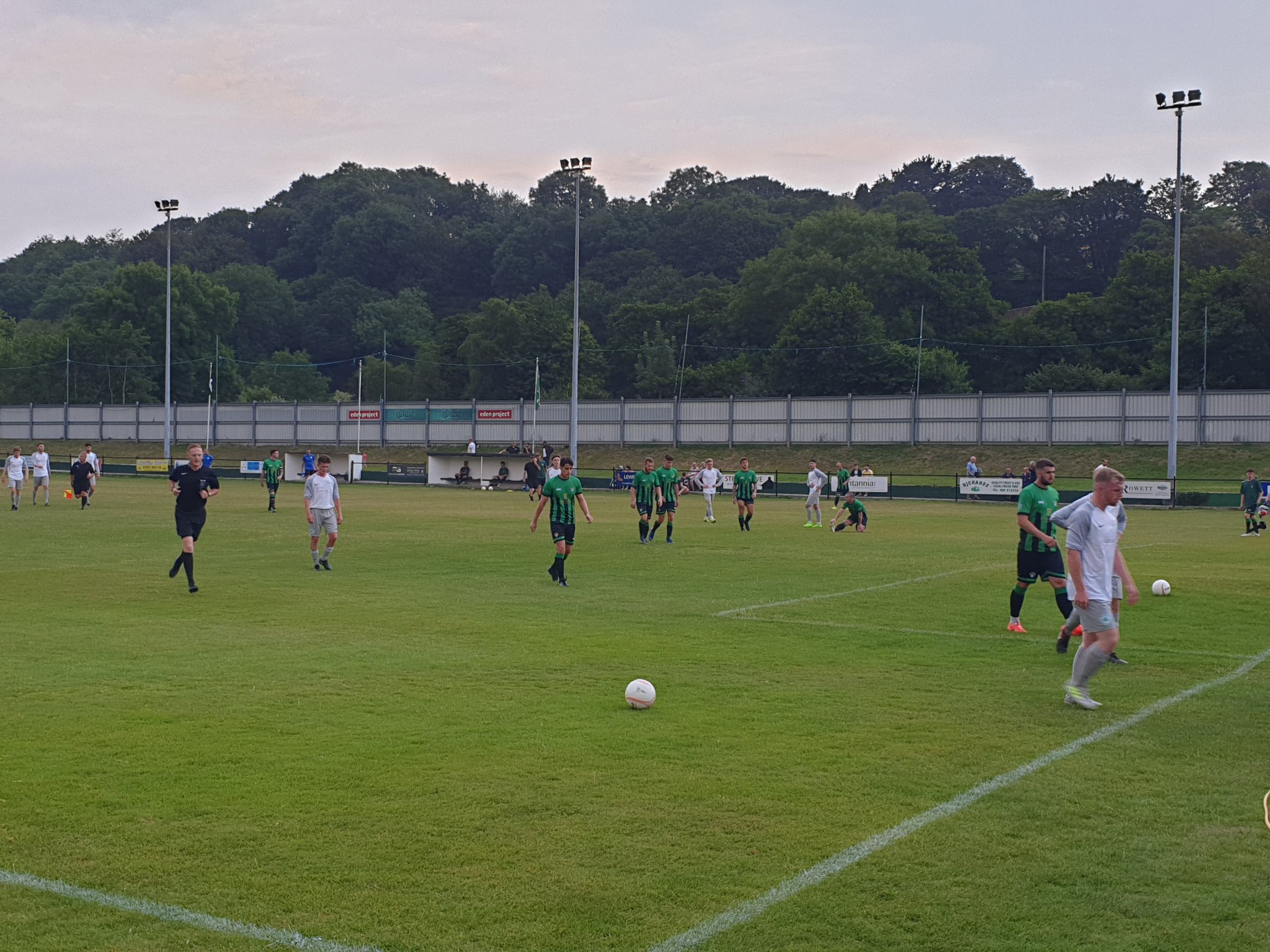 The second half started under the Blaise Park lights as the nights start to draw in. St Blazey had the opening chance of the second half when a corner was swung towards the far post and met with a good header that went just over the bar. Ivybridge punished St Blazey for that missed chance by taking the lead just minutes later when a through ball sent Sam Carter through on goal and he curled his shot into the bottom corner of the net with a good finish. Ivybridge should have doubled their lead within a couple minutes as a good cross from the right was met at the far post with a good headed effort on goal that slipped the wrong side of the post. Both sides made changes through out the second half as they give their squad players valuable playing time. Ivybridge looked to have secured the win with a second goal from Carter but St Blazey never gave up. The Ivybridge goalkeeper pulled off two fantastic saves late on, the first from a diving header, as St Blazey pushed to get something out of the match. Despite this, Ivybridge always looked dangerous on the break and Cole in the St Blazey goal made an excellent save late on to deny them a third.
Full time, St Blazey 0v2 Ivybridge Town
Joint Manager Shaun Vincent had this to say about tonight's performance.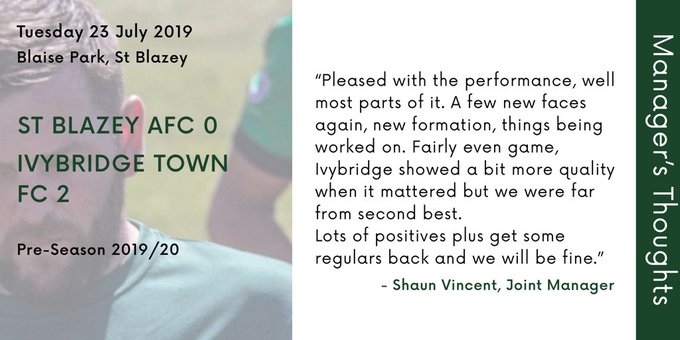 Man of the match, Jordan Powell.
Joint manager Shaun Vincent had this to say about his performance.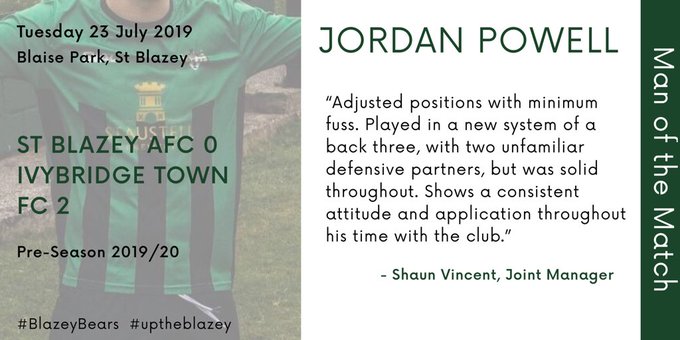 Next up for St Blazey, Southern league, Truro City are the visitors to Blaise Park on Monday 29th July 2019. Kick off 7.30pm.