St Blazey
3
1
Callington Town
10th August 2019 at 3:00pm
Blaise Park
S.W.P.L Premier West
St Blazey 3v1 Callington Town. Att.92 Away 5
St Blazey, back playing football at step 6 in the newly formed South West Peninsula League West division, had club captain Lewis Vooght unavailable after a nasty ankle injury during training in mid week could leave him unavailable for at least four weeks. Alexander returned to the bench after a cracked rib forced him to miss the last few pre season friendlies since going off injured away at Bovey Tracey. Managers Matt and Shaun went with this line up up to kick start the 2019/20 season.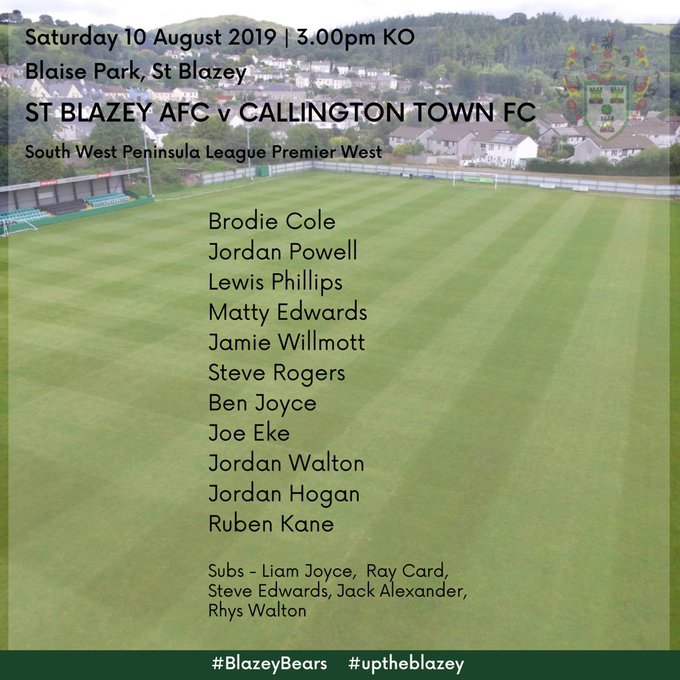 Callington won the toss and turned the sides around leaving St Blazey to play towards the club house end during the first half.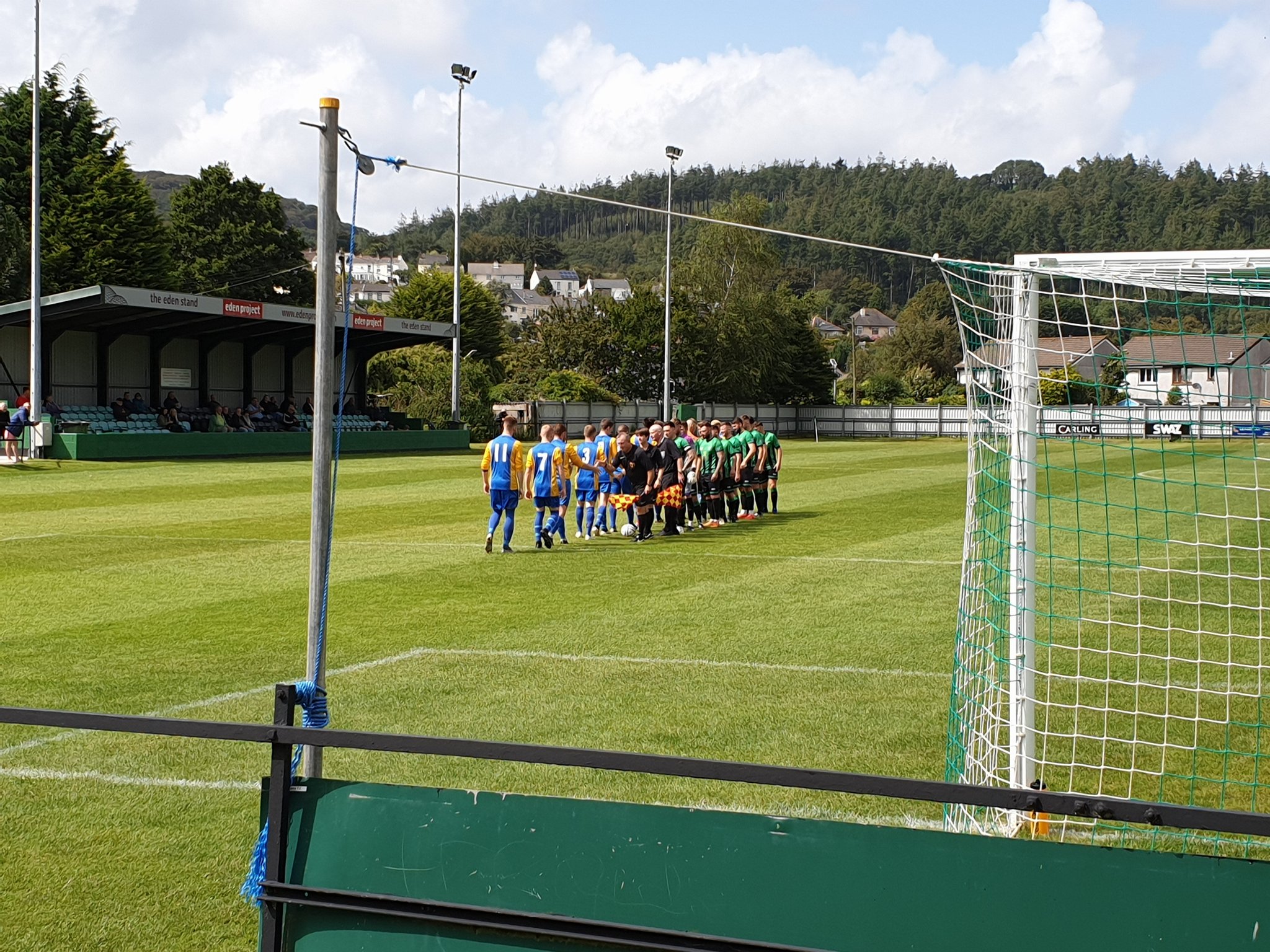 St Blazey were straight on the attack and forced two corners in succession as St Blazey looked to take an early lead. Callington survived those early scares and threatened themselves when they broke down the left and a shot was curled towards the far post only to fly wide. St Blazey looked quicker to the ball and pressed Callington well but couldn't get their passing going to help create good chances. Callington must have thought they were taking the lead mid way through the first half when a shot was parried by Cole. It looked a certain tap for Ryan Lucassi on the re bound only for Cole and a defender flying in to help block the ball and keep the scores level. St Blazey finally got the break through when Willmott opened the scoring in the 36rd minute to settle any nerves. Kane making his St Blazey debut looked lively but his shot on the turn was a comfortable save for the Callington goal keeper. St Blazey doubled their lead just before half time when a chipped cross was flicked on and Eke running in the far post bundled the ball over the line.
Half time, St Blazey 2v0 Callington Town
First half match highlights.
St Blazey were out early for the second half as the two late first half goals had given them a real boost. St Blazey were on the attack from the off and looked to have secured all three points in the 53rd minute when a lovely ball down the right was zipped across the six yard box and met by the head of Eke who got across the defender and beat the Callington goal keeper at the near post. That goal looked to have killed off Callington but just five minutes later, they pulled a goal back through Andre Rodyukov. Callington worked the ball down the right and a good cross was only partially cleared high into the air. The ball was worked back and the low shot beat Cole in the St Blazey goal. Callington then dominated play for the next 20 minutes as St Blazey started diving in, giving away free kicks and giving the ball away cheaply. For all Callington's pressure, they couldn't find away past Cole. He made several saves to prevent Callington getting a second and getting themselves within a goal of a share of the points. St Blazey had one good shot turned over the bar when a shot from range was well saved as St Blazey looked to score a 4th. St Blazey had a good shout for a penalty when Alexander, on as a second half substitute for Steve Rodgers was played through and got in front of the Callington defender and looked to have been barged over but the referee waved play on. Callington were reduced to ten men in the final minute when a late challenge by Kevin McCallion was punished with a second yellow card and a red card. St Blazey held firm, and took all three points to kick start their league campaign.
Second half match highlights.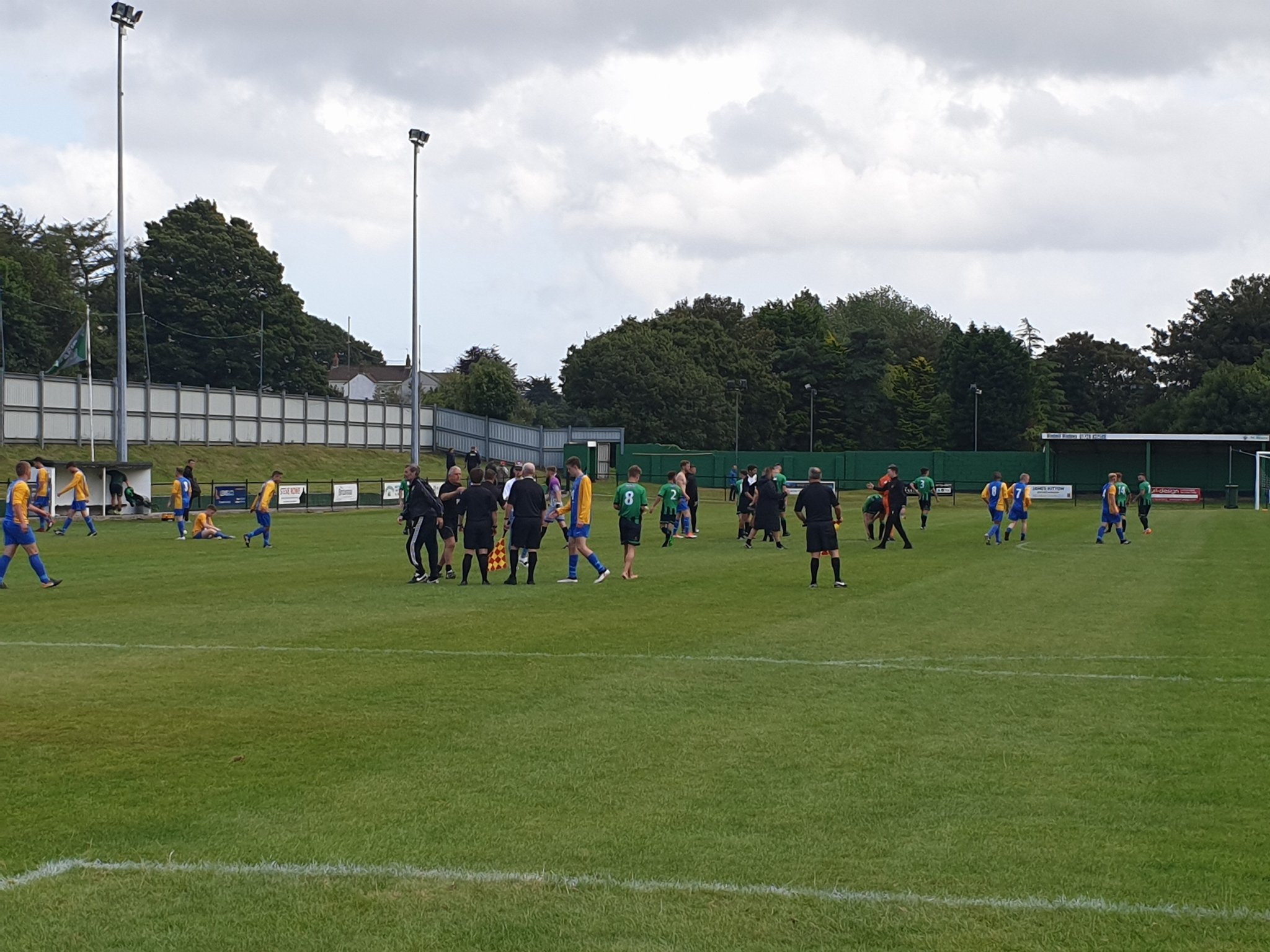 Full time, St Blazey 3v1 Callington Town
Man of the match, Jamie Willmott
Joint manager, Shaun Vincent had this to say about his man of the match performance.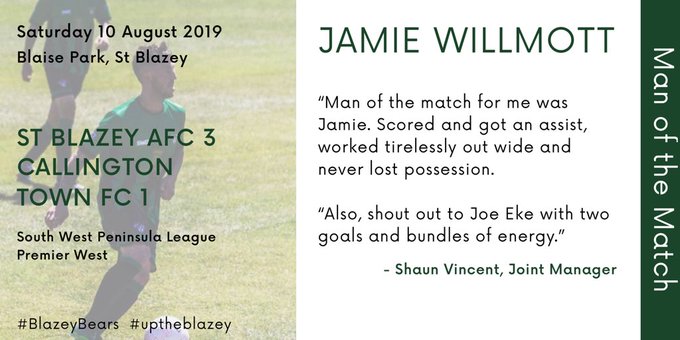 Joint Manager, Matt Hayden had this to say after their opening day victory.
"It was amazing to start the season again; there's a really good feeling around the club and with the lads at the moment.
"First game back in the SWPL and we cannot complain at all – three points and three goals is a great way to start! Only thing I'd pick up on is that we didn't get the clean sheet but then we take that away and work on it.
"We still have a few lads unavailable but to start off like this shows we have depth in our squad and any one of them is good enough to step in.
"First 20 minutes of the game was a little nervous, I think it is safe to say, possibly because first game of the season, but once we settled we were playing some incredible football. Callington made it difficult for us, they were hard to break down at times, but we stayed patient and got our rewards.
"Half time came at the wrong time for us, as we were on top and 2-0 up. When we came back out it looked as though the lads took their foot off the gas a little and so Callington were having spells in the half and putting us under pressure. That's when they got their goal. From there the lads tried controlling the game and, I think, for the last 20 minute we did it very well.
"All the best to Callington and their management team for the season. We go to Newquay on Tuesday and hope to keep up this good form now."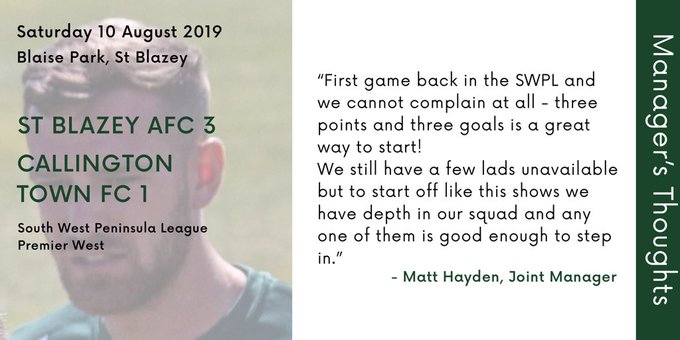 Next up for St Blazey, a trip to the north coast to face old rivals Newquay at Mount Wise. Newquay narrowly lost ov2 at home to highly fancied Helston in their opening day fixture.